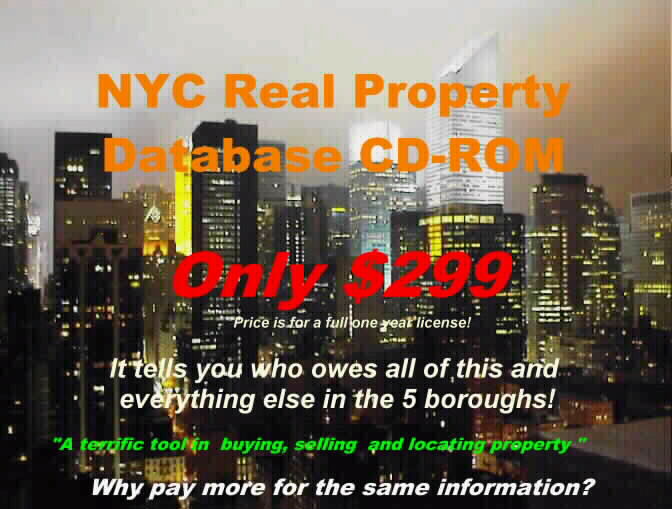 Brokers and Management
This list is being revised. Please contact us if you wish to be listed or if you know of an interesting local link or real estate resource
Appliances
Preway Service Inc. Appliance Services
Elevators
Enterprise Service Group, Inc elevators
William J. Robertson Elevators
Tel: 212-979-1142 Fax: 212-9798711
Environmental
JLC Environmental Corp Environmental
Lock Smith
Midway Locksmith 25 East 36 Street and Madison Avenue. The locksmith for the real estate industry. Doors, locks installed of all types. Commercial accounts our specialty. Serving the real estate industry fron the same location for over 30 years. Prompt service. 24/7 service available. Tel: (212) 576-1100.
Plumbing and Heating
R+B Plumbing & Heating Corp Plumbing
Corporate Furniture
Corporate Furniture Resource
21 Murray Street
New York, NY 10007
Tel: 212-720-4923
Fax: 212-619-4152
mmaltz@cfrfurniture.com
Printer and Toner Cartridges
Re-filled Printer and Toner Cartridges 25 East 36 Street and Madison Avenue (ground floor). Tel: (212) 576-1100.
Directories and On-Line info
NYC Real Property Database CD-Rom Information on every property in all 5 boroughs including landlords name
1800roommates.comFree classifieds includes apartment rentals and roommates listings,
America's HomeNet Resource directory
Landlord Direct Rentals-Manhattan Online directory of Manhattan Landlord and Management companies.
New York Press Real Estate Search New York Press, Online real estate classifieds.
NewYorkRealty.com Database of real estate resources
NYC Real Estate Guide
Office Buildings magazine Office building resources and information
The Real Estate Board of New York
Real Estate Web Design
www.Design1.org Web design for the New York, New Jersey and Connecticut Real Estate industry.
Residential Brokers
A.J. Clarke Real Estate
Andrea Bunis Management
Argo Corporation
Ashforth Warburg Associates
Atco Residential Group, Inc.
Avalonbay Communities, Inc.
Balaban Real Estate Company
Barkin & Associates Realty
Barshay Brokerage, Inc.
Bellmarc Realty
Bromley Co.
Brown Harris Stevens
Carlson Realty Inc.
Carroll Real Estate Group
Charles H. Greenthal, Inc.
Citi Habitats, Inc.
City Sites Real Estate GR
Clarendon Management Corp.
Coldwell Banker Hunt Kennedy
Council of New York Cooperative
Cooper Square Realty, Inc.
Corcoran Group, Inc.
Delson Ginsberg Real Estate.
Domus Arbiter Realty Corp
Douglas Elliman, LLC
D.J. Knight & Company
Eychner Associates, Inc.
Fox Residential Group, Inc
Goodstein Equities, Inc.
Gumley Haft Kleier, Inc.
Halstead Property Co.
Heron LTD.
Independent Brokers Circle, Inc.
Insignia Residential Group
Klara Madlin Real Estate, Inc.
lincolncenterrealty
Manhattan Apartments, Inc.
Manhattan Network Inc
Maison International, Ltd
Massey Knakal Realty Services
Matthew Adam Properties
McIntosh Company
MLBKaye International Realty
Olshan Realty Inc.
P & J Realty Company/Kibel Company (360 West 34th Street)
P.S. Burnham Inc.
Peter Ashe Realty
Rockrose Development Corp.
Rose Associates, Inc.
Sotheby's International
Spencer Realty
Stribling & Associates, LTD.
Sumitomo Real Estate Sale
Sunshine Group, LTD
Time Equities, Inc.
Triangle Equities (718) 463-5757 Developer
Tudor Realty
The William B. May Company
Wohlfarth & Associates



Brokerage Web Design: . Real Estate Websites designed to sell or rent property.
"It is not creative ...
if it does not sell".
Commercial Brokers
Ackman Ziff Real Estate
Adam & Company Real Estate
Barkin & Associates Realty
Boston Properties
Brause Realty, Inc.
Briarwood properties
Byrnam Wood, LLC
Carlton Group, LTD.
CB Richard Ellis, Inc.
Chambre & Company, Inc.
Cohen & Company, Inc.
Colliers ABR, Inc.
Corporate Property Consultants
Corsair Group
Cushman & Wakefield, Inc.
D.G. Hart Associates, Inc.
Dabar Management Co.
Durst Organization, Inc.
Eastern Consolidated Properties
Eastdil Realty Co., LLC
George & Sons Comfort, Inc.
Goodstein Realty Commercial
Ellman Realty Advisors, Inc.
GE/Grace&Company
Grotto, J. & Associates, Inc.
Grubb & Ellis Company
GVA Williams
handy4unyc.com
Helmsley-Spear, Inc.
Hunter Realty Organization
Insigina/ESG, Inc.
Insignia Financial Group
Jack Resnick & Sons, Inc.
Jeffrey M. Brown Associates
Jones Lang Lasalle
Julien J. Studley, Inc.
Lansco Corporation
Massey Knakal Realty Services
Newmark & Co. Real Estate, Inc.
Pergolis-Swartz Associates, Inc.
Rockefeller Center
Rudin Management (55 Broad St.)
S.L. Green Realty Corp.
Sonnenblick-Goldman Company
TenantWise.com
The Greenwich Group International, LLC
The Staubach Company
Time Equities, Inc.
Tishman Speyer Properties
Trammell Crow Company
Walter & Samuels, Inc.
Williamson, Picket, Gross, Inc
Do you need a high quality photograph of your building? We probably already have one on file. Send us an email with the address and we will tell you what we have available.
Other Publications
The Real Estate Journal was founded in the early 1960's and has emerged as one of the leading current real estate business information sources for developers. They have several editions covering different areas of the north east.
SOCIAL
What to do in NYC
Directories
www.timeout.com
www.searchnyc.com
www.citysearch.com
www.letsgooutny.com
www.atticautomatic.com
www.citidex.com
www.123newyork.com
www.insurance-y2k.com
www.yukaura.com
www.netpassport.or.jp
www.crapula.com
www.bitsuite.itgo.com
www.papermag.com
www.nynightbuzz.com
www.users.rcn.com
Central Park Web Site
Broadway Theaters/Playbill
Zagat's New York City
Destinations
Metropolitan Museum of Art
The Museum of Modern Art
New York City Ballet
New York City Opera
Madison Square Garden
Chelsea Piers
Lincoln Center
Carnegie Hall
Radio City Music Hall

Sports Teams
New York Yankees
New York Mets
New York Rangers
New York Knicks
New York Jets
New York Giants